Ok, so I was trying to track down some intermittent glitches in my electrical system. I may have found a source. My door chime and remote trunk unlatch seem to only work when they want. My windshield wipers don't work at all, and my left turn blinker is fast (these last 2 I think are the multi function switch in the steering column, but I digress).
I looked behind the dead pedal, and saw a small harness sticking out, not connected to anything. I trailed it back, and removed the kick panel, and found this: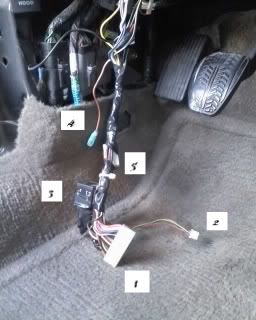 Ordered by their tags, this is the info off the mickey moused electrical tape and spliced nightmare:
1. The white harness is labeled: H04 AXE01B "Keep this side up"
It has 14 colored wires, left to right R, W, P, Bl, G/W, Bk/W, G/W, R/W, W/G, Bk, Br, Y, G, O It seems to have nothing to plug into.
2. The small harness is the one I saw sticking out. It does not seem to have a place to go, but is spliced into the harness somewhere.
3. This large fuse is labeled: Tyco VF4-45F11 12 VDC 40/30A
It is tied into the Br and Bk/W. It is quite warm to the touch.
4. This orange wire has some sort of electrical blade connector at the end, and seems to be connected to the Orange wire on the harness.
5. These 2 Buss fuses are spliced in and held in place by electrical tape.
One is 5A and is spliced into the R/W wire. The other is 15A and is on the R wire.
The entire harness connects to a slew of splices and harnesses up under the dash, one of these is my door chime. Moving the wires (and reseating one of the harnesses under the dash) brought it back.
Now, I am no electrical expert, but even a 1st year run car like mine surely does not leave the factory with harnesses like this, and wrapped in loose electrical tape. I suspect an aftermarket alarm was in/out it before I bought it (2nd owner, bought from dealer), and I just never discovered it until now.
My question - is this dangerous? No exposed wires, but the short bugs me, and I hate loose ends. I want to plug those harnesses in, but there is nowhere to go. I can take more pics or provide more info for those interested in tackling this. Thanks!