I recently made a post that I bought one of these last fall when they were having a big sale on them, and that the people there made me feel very comfortable that this was a quality piece. I also remarked that I hadn't installed it yet but it looked nice.
It was a moral dilemma biting on the whole UPR thing, but I bit as it was a great price.
The K-member went right in, the issue came when we unpackaged the A-arms and found this:
At first I thought that it was something in the powder coating...so we scratched it off.....
So the next day I call UPR and emailed them the pics and explained that though I'm no metallurgy expert, I'm no amateur either and this metal is flawed/cracked and could fail....and at first I was impressed at how they responded as I'm ANXIOUS and EAGER to put this car back together.
"Mr. H, We'll get you a new pair of A-arms right out, and include a call tag so you can return those...we take this very seriously"
OK, fair enough...so after I gave them my information, I got this:
"well you bought this from a dealer, so I need authorization to send the replacements, I'll call you right back"
I'm thinking "jeez, here we go"
A short while later I get a call:
"I showed these pics to the supervisor and he thinks its merely a problem in the powdercoat. If you want you can pay to ship them back, and if it is a problem on our end, we'll replace it. If not, then you'll also have to pay the shipping to return it to you"
Just great, now this is going to take like 2 weeks.....and now I'm mad. So I say:
"Dammit, that's going to take 2 weeks, but I'll tell you what, I'm going to go home and STRIP all the powder coating off and send you another picture of this....since you can't see the obvious. You should be happy I didn't just blindly bolt this on, have it FAIL and chase you with a lawsuit. THIS IS RETARDED...but I'll play along".
So I came home after work....hit it with a surface prep disk and found this: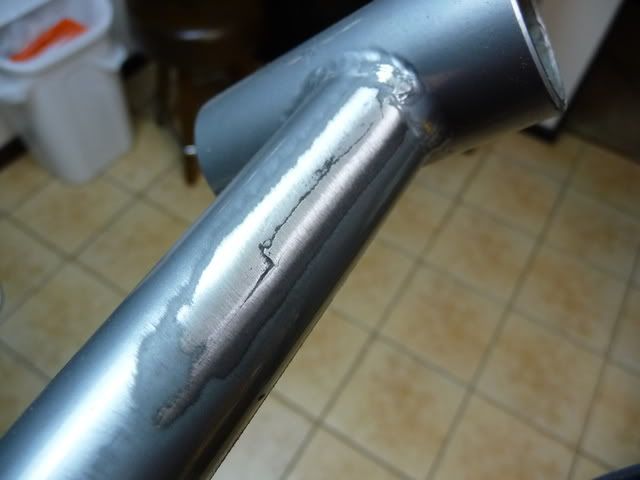 I showed it to a good friend that is a master tool and die machinist, and has been for more than 25 years. I mean this guy probably has $100K worth of tooling in his HOME shop. Anyway he says "You're not going to put that POS on your car are you?"
As I look at it more, I think there is more of that crack further up the A-arm so I'm going to go strip it more and see what else I can find.
So Friday night I sent a few new pics along with a nice email to see what happens next.
Saturday I get a call back and they are still jerking me around....and giving me the
"Well we need to see it first, we still think it's powder coating..."

Screw them and their junk. Sunday, I spent nearly an hour on the phone with Dave Z of Team Z Motorsports and ordered a K-member from him and A-arms. He was VERY informative and is very reputable....
DOES ANYONE HERE THINK THAT THIS IS A POWDER COATING ISSUE? Maybe I'm a complete idiot??? Then again...maybe not....MIND YOU THIS HAS NEVER EVEN BEEN BOLTED ON!!!!