Discussion Starter
•
#1
•
So i have taken on the project of cutting up my on3 turbo kit and making my own. Swapping a built 4r70w and a 275 radial. My motor is stock for the time being. I put down 380whp on a 04 GT on 5lbs of boost with 93 octane.
So my question is what can i use for forward facing headers without making my own? I took the stock manifolds off and flipped then to see if the passanger would work on the driver said and the water neck is in the way. Is there a different water neck i can use to move it out of the way? I will be relocation my oil filer also and the turbo is now going to be mounted on the front driver side in place of the fog light. Ive read of people using JBA f150 manifolds and turning them etc. can someone give me an idea of what i can do? That water neck is right in the way.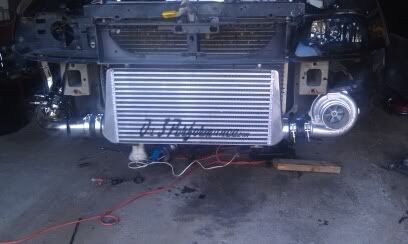 Plan is to cut out a bunch of rad support on the front side and fab up a turbo mount. Run passanger exhaust up in front of the motor across to the driver side exhaust and meet up front behind the turbo into one and then into turbo. Need all the help we can get with exhaust manifold and waterneck.