This is kind of the opposite of most threads in this forum, so if a mod wants to move it somewhere else, feel free.
I've owned my '89 GT convertible since '94, with it being my DD for the first 4 or 5 years. I've thrown an awful lot of money and parts at the car over the years, but the end result is that it's hardly daily drivable anymore, and it has seen far fewer track days than my other two cars. From spring '94 to fall '00 I put about 80k miles on the car; from fall '00 to fall '12 I put about 12k on it.
It did one track weekend in March of this year, which was the first time it had seen a track since 2006, and I wasn't even able to do all the sessions due to axle seal issues and the infamous gas tank puking issue that others also have experience with.
So, in recent days I've been thinking that it might be time to "de-trackify" the car a bit so I can DD it again and actually get back to enjoying the car. For the most part that will be restoring some creature comforts, as the heat and A/C were removed back in the 2000-2002 timeframe. With no A/C, the dark car with a black top and black racing seats becomes unbearable in hot weather (yes, even with the top down), and the lack of heat and A/C means I have no way to defrost/defog the car if it's cold or damp. (I still remember having to leave an auto-x event years ago because it started raining pretty good and with a wet driver in the car all the windows were fogging up heavily and there was nothing I could do about it.
) I used to love driving with the top down even with temps in the 40s - just crank the heat up - but I can't do that anymore.
In addition to the HVAC stuff, I think swapping out the Sparco Evo2s for some sport seats would make entry/exit easier, be cooler in hot weather, and allow me to use the stock seatbelts for normal driving, while allowing me to still use my 5-point harnesses if I decide to auto-x or track the car.
Last but not least, I'd probably end up getting my rollbar modified so the door bars were lower. Something similar to the old (and apparently recently rejuvenated)
Kenny Brown Super Street setup
. On the flexi-flyer convertible, I think having those forward legs, even if they're down low alongside the seat bottom, would help with chassis rigidity a bit.
With all that said, I guess my initial questions are mostly about how best to go about restoring the HVAC stuff. It's been so long since I had all the appropriate parts on the car that I'm not even sure what I need, so I'll probably start off by finding a junkyard to just put eyeballs on everything. Some random questions as they come to my mind...
- It appears the A/C evaporator core is still in the dash, but the two connections sticking out of the firewall have been open to who knows what for the past 10 or 12 years. How big an issue is that?
- What parts can I reasonably get from a junkyard car, and what parts would I be better off buying new?
- Since I've got a 351, what vehicle(s) should I be looking at to scavenge brackets from?
- Is it worth getting parts from a newer car (newer cars have smaller, more efficient A/C compressors, for instance), or would I just be making it hard on myself to try to get the system set up?
As far as the seats go, here's what I've got right now: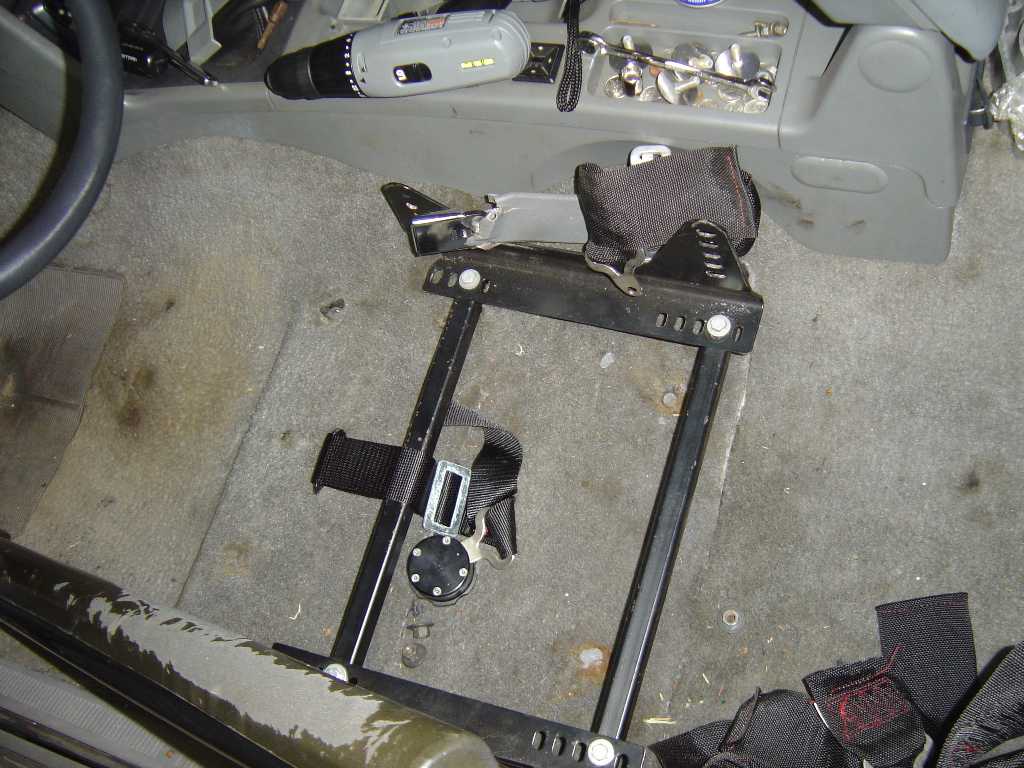 The cross rails are 1x1" square steel tubing welded in pretty close to the floor. To put sport seats in (something like a Corbeau A4 or Sparco R505) would I need to cut those out so I could then bolt in slider style mounts? And are there any good reclinable sport seats that have the hole in the bottom for a 5-point harness, or would I have to get the seats modified for that?