Hey guys, I finally had a chance to get the coupe out to Buttonwillow Raceway near Bakersfield this past weekend after almost 2 years of installing, sorting out bugs, dialing in, setbacks, etc etc etc. ~Three years ago my car was going high 12's on a stock motor. Then I parked the car for a year while I dealt with other things in life, then when I got motivated about the car again, I decided to make it handle proper. Still using the same 150k motor, which admittedly burns a buunch of oil, but other than that makes great power and just keeps going! :hammer:
I never would have thought I could go cat and mouse with E36/ E46 M3's, C6 Vette's, Miatas, EVO's, WRX's, you name it. What a blast! The NT05's are truly the best tire I have ever owned... they ride amazing on the street, they don't tramline one single bit, and the hype is right... they do feel like an R compound on the track. The hotter they got, the more they hooked. I chatted with an E46 guy at the track who runs NT05's and he said he got 15,000 street miles and 5 track days out of them ... we'll see. The best part about these tires is they start to howl when they are pushed hard, so over the course of the day, I got to know the track better, and I listened to the tires to let me know how much harder I could push them.
The suspension setup has come a long way since I had just coilovers, subframes, and rear lower control arms... It's hard to say which component of the MM kit that I like best, but since I added them basically piece by piece, I remember how each one felt after I went for a drive.
This is my setup:
Motor:
stock 93 motor, ~150k, running 20/50 to keep it alive
stock headers, gutted stock hpipe, Dynomax Ultra-Flow catback
March pullies, a/c, p/s (with cooler in front of radiator) running non-synthetic Type F fluid and a 96 Cobra steering rack
Pep Boys 3-core radiator, Mark 8 electric fan, VW temp switch
Drivetrain:
stock T5, MGW shifter, Fidanza aluminum flywheel, Centerforce clutch, Aluminum driveshaft
8.8 w/ welded tubes, Eaton posi, 3.73s, fox-length 31 spline axles, ARP 3" studs, TA cover, generic axle brackets to run Cobra brakes with fox-length axles
Saleen "replica" wheels 17x9, 17x10.5 with Nitto NT05 275/40/17 on all fours
Suspension:
MM k-member, t/a, phb, Bilstein HD's with 4-wheel coilovers, 325/225 springs
96 spindles with new Timken hubs, 3" ARP studs
MM adjustable rear swaybar, stock V8 front swaybar
MM forward offset a-arms
MM road race rear lower control arms
MM full length subframes
MM solid steering shaft
welded torque boxes with UMI plates
MM caster-camber plates
corner weighted, bumpsteered, 2* negative camber, 7.5* caster
Cobra brakes using Hawk Blue pads up front, stainless braided lines
Full interior, FloFit seats
Raceweight ~3500lbs with me in it
I'm stoked to have gone on my first open track event, which turned out very successful and so much fun!!! Big thanks to my best friend gpsmaty who helped me night after night with all the installs, welding, tuning, etc and who hooked me up with the wheels for the car as well. :salute:
Matt and I topped out in 4th doing ~130mph
Played around with EVO's and Subies all day, and it was super fun to get back to the pits and talk shop with them
On the 6th run of the day, pushing the car harder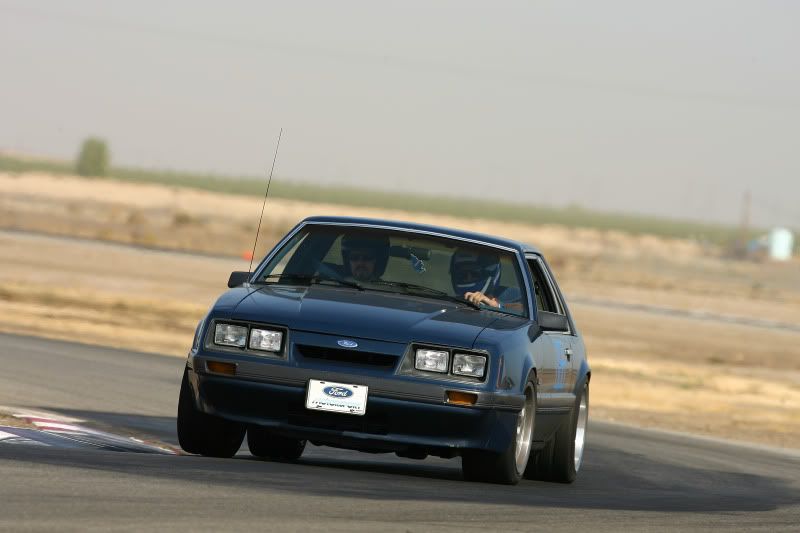 Taking my girlfriend around the track, admittedly going a bit slower hehe