Discussion Starter
·
#1
·
Hi all, I guess I'm a noob...though I'm pretty sure I created an account a few years ago when I bought my first Mustang (2014 GT). I couldn't find the login stuff though so I just created a new one. Anyways, I've always been a huge fox body fan. First Mustang I ever rode in was a Fox Body. First Mustang I ever drove in was a Fox Body and when I first really got into cars as a teenager, I hung out with a few guys who had modified Fox Bodies and needless to say, I've wanted one ever since. Well, in January I finally picked up my first Fox Body. It's a 1988 GT, white with the red stripe around the middle (Vanilla Ice style-ish, lol). I've been trying to do some small things when I have time to work on the car.....like fixing the horn, replacing some minor exterior and interior pieces, returning the CAI to stock, etc. It definitely needs some more work like fixing some oil leaks and addressing some rust but overall I'm pretty happy with the car and I'm looking forward to continuing work on it as sort of a resto-mod/occasional weekend track car, in the coming months and years. I've documented my progress in some threads on other forums but trying to cast a wide net so I can get as much insight and guidance as possible from other Mustang owners.
Anyways, here's the car (along with my 2014 GT):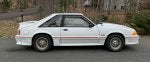 I'm documenting my progress (and learning experience) through videos on YouTube. Will share links in my next post (I guess you can't add links to your first post). Always open to advice and suggestions so please feel free to comment. Thanks and cheers.