installing a Crown Vic 2-speed e-fan setup which is similar to the Taurus fan but fits my radiator better. im going to make my own relay kit. question is does the low speed relay need to turn off when the high speed relay is on? or can both low and high speed relays be on at the same time?
i have seen diagrams showing how to wire the 2 relays so it turns off low speed circuit when high speed circuit is on. but then a 3rd relay is needed so fans only comes on with key on. otherwise they will stay on after engine is off till it cools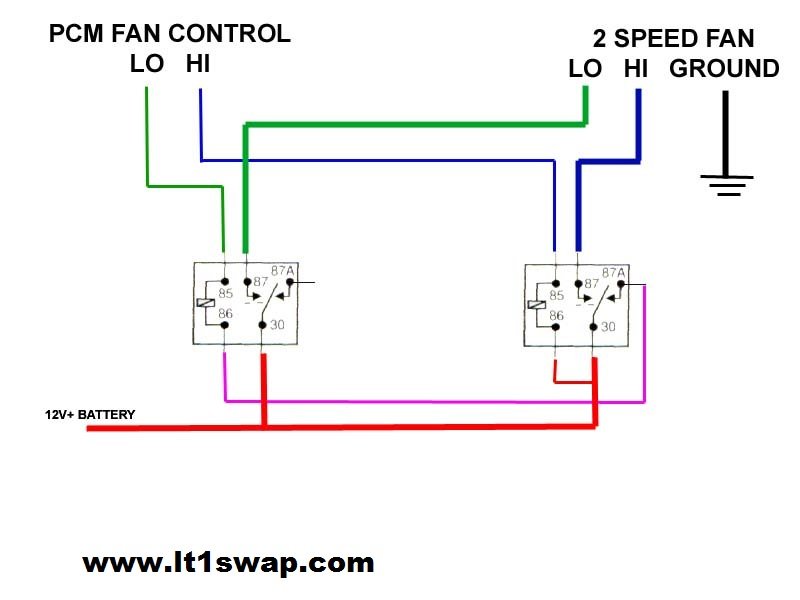 otherwise if it is ok to have high and low speed powered at the same time, i can use just 2 relays just like a dual fan setup
on Derale's FAQ page, it says the dual fan controller can run a 2-speed fan like a dual fan setup. tho it does say it will not support high amp fans like the Tuarus and such so i was going to make my own relay setup. but i dont want to damage my fan motor so i want to make sure
Q: Will the Hi Amp or PWM controller run a 2-speed fan?
A: Yes. The Hi Amp controller will run each speed as if it were two separate fans meaning the Fan #1 wire would feed the Low speed wire (gray) and the Fan #2 wire would feed the high-speed wire (brown).
High Amperage Adjustable Dual Electric Fan Controller, Push In Probe High Amp. Controllers High-Amperage Adjustable Dual Fan Controller, Push-in probe 16788
derale.com
This controller Will Not Work using the following 2-speed O.E. Electric Fans: Dodge Viper, Ford Taurus, Ford Contour, or Lincoln Mark VIII. These fans exceed the amperage & functionality capabilities of this fan controller.
Ford EVTMs dont really say. they have low and high speed on separate relays and each controlled by the PCM. does show the low speed on a 30a fuse and high on a 50a fuse so it does draw a good amount of power