Discussion Starter
·
#1
·
I have recently been having issues where the a/c clutch will not engage, so I am getting hot air blown into the cabin. I have tested a number of things, but at this point i am having trouble stiching together the information on various forums to find a way to continue, so here is the run-down:
-All fuses are good and tested
-There is an adequate refrigerant charge (100 psi static, 40 when the clutch has been working** more on this below)
-The low pressure switch is working fine. 12v at the harness and when the clutch is jumped, everything works here.
- There is no power being supplied to the compressor clutch (circled in orange). The clutch, however, does engage, spin and blow cold air when jumped to the battery.
-12v at the high pressure switch (circled in yellow, gr/o lead-think miami colors) when the ac switch is engaged
That is all I have tested. I imagine the CCRM is behind the panel where the blue arrow points. What is the relay circle in purple? WOT? What else must I test before replacing the CCRM?
**last week the problem of the a/c clutch not engaging only occurred in the afternoons. Once the sun went down, and the car would sit (usually through a 3-hour night class or when i woke up in the morning), the a/c would work fine. just last night, however, it stopped working all together and hasnt resumed functioning.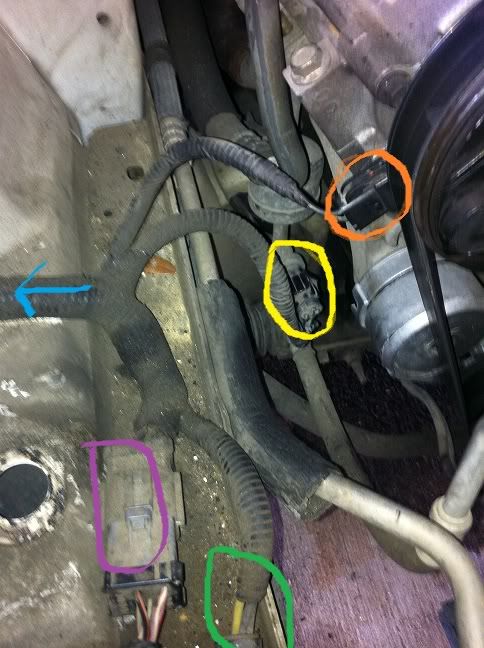 Where do I go from here? any help would be greatly appreciated