This car is in Aurora CO, a suburb of Denver. We are asking 7500 OBO. We bought it out of CT last year and I did a full interior restoration/refresh. The paint is in great shape, the convertible top is in good shape, it comes with a car cover. Mechanically there's nothing wrong with it and the V8 still runs strong. I've done and had professionally completed a lot of work on this car in the last year. It's got new brakes all the way around, new rotors in the front, all new shocks and struts, new catback Magnaflow 3" exhaust, an extra set of factory wheels with tires on them, new headlights and side markers, all new electrical switches in the car (I wanted it to look and feel showroom fresh inside), professionally done reupholstery, new carpet, new mats, new factory leather steering wheel, new door panels, new center console, new cupholders, Alpine deck with bluetooth and phone mic, whiteface gauges, heck even the seatbelt latches are new!!....basically the interior is all new. We are selling because we want a new '13 or '14 'vert in Gotta Have It Green and the dealer low balled me on a trade which is expected. Also - if you have a low miles, very good condition GHIG 'vert for sale, please PM me as I am very interested. I'd rather this go to a 'stang lover here on the forums then to a unappreciative dealership who's just going to wholesale it. I'll let the pics speak for themselves. Some of these pics are a bit older and doesnt show the whiteface gauges, Alpine deck or the back seats that match the front (saddle with black insert...) Again - this is autumn orange, not red! I'll can try to get some better pics in the sun if the rain out here stops anytime soon.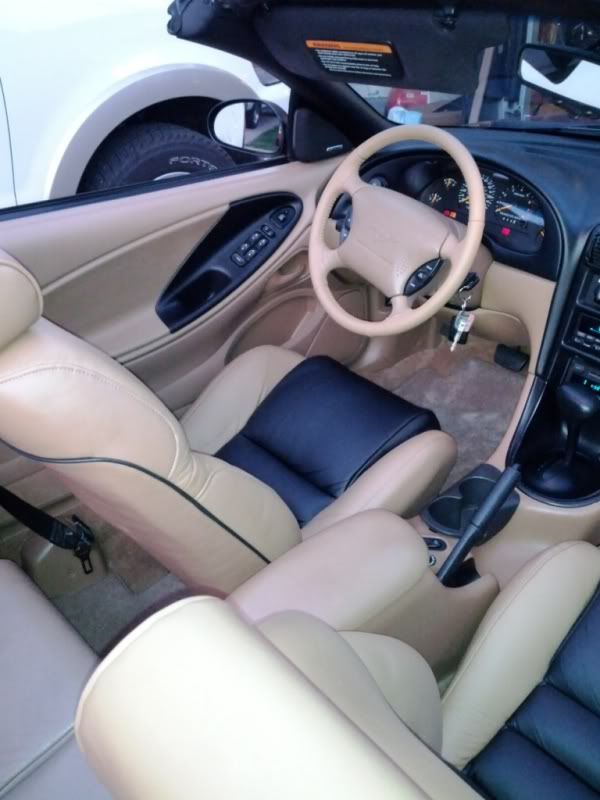 These pics of the car were taken the day I took delivery of "Mr. Fun". The headlights and front turn signal housings have since been replaced with new factory OEM, but the car is otherwise in the same shape.
There have been no mechanical problems at all and this GT runs very strong and smoothly, but this is primarily my wife's car and I acted proactively in making sure that the stuff that typically starts to give problems after 100k miles were addressed. There are certainly other things that I have done proactively mechanically and aesthetically done on this car that I have forgotten, but this should be a fairly complete list.
New interior:
Door panels, door panel inserts, drivers side power lock switch, drivers side power windows switches, drivers side power window lock switch, headlight switch, leather wrapped steering wheel, white face gauges, gauge cluster lens (2 included NIB), drivers side and passenger side vent pods, Alpine bluetooth deck with phone integration, center console bezel (NIB), center console (98 style with cupholders instead of 97 with ashtray), fog light switch, convertible top switch, seat belt latches, passenger side power window switch, passenger side power lock switch, carpet, floor mats with tri-bar pony logo, front bucket and rear seats all professionally reupholstered in leather saddle color with black panels and piping, drivers power seat, OEM keys and keyfobs
New Exterior:
Front OEM headlights and front side markers, gold colored OEM mustang side rocker panel stripe
New Mechanical:
Front and rear brake pads, front rotors, magnaflow catback 3" stainless exhaust, radiator, water pump, alternator, idle air controller, spark plugs, all fluids completely flushed and replaced day of delivery (transmission, coolant, oil, rear diff)