Unfortunately I was burned by a friend of mine who was supposed to buy this car, so now I will have to sell it as a project. The car is located in Easton PA, and will have to be trailered.
The Good:
1990 5.0 Coupe:
351W (Just rebuilt)
- .60 OverKieth Black Forged Dished Pistons
- GT 40 P Heads w/ FRPP 1.7 Roller Rockers, Shaved .10
- SVT Lighting lower Intake
- Downs Upper Intake
- 42 LB Injectors
TreadStone 64mm Turbo Kit
TKO 500 Trans
MMR RBT 700 Clutch
FRPP Aluminum Driveshaft
SN 95 Spindles
Flaming River Manual Rack
03 Cobra 13" brakes
01 Cobra IRS
- Maximum Motorsports Adjustable Swaybar links
- Maximum Motorsports Polyurethane bushings through out
- Maximum Motorsports IRS brace
Comes with a 3.55 MK VIII center section 3.55 (installed) and the Cobra 3.27 (needs to be rebuilt)
Maximum Motorsports Tower brace
S&W 10 pt Mild Steel Cage
Edelbrock Subframe Connectors
All Autometer gauges
Lightweight 3" cowl Hood
Black 17x9 Cobra wheels, with Nito 555's 255's up front, 275's in the rear.
The Bad:
Will need to be repainted, the paint did not cure properly and it is starting to crack around the quarters.
The car is gutted.
The car is setup for a F.A.S.T. box but will need an ECU, the harness and BigStuff sensors are in place.
Wiring will need to be finished.
Passenger side Shock tower Clearancing will need to be finished.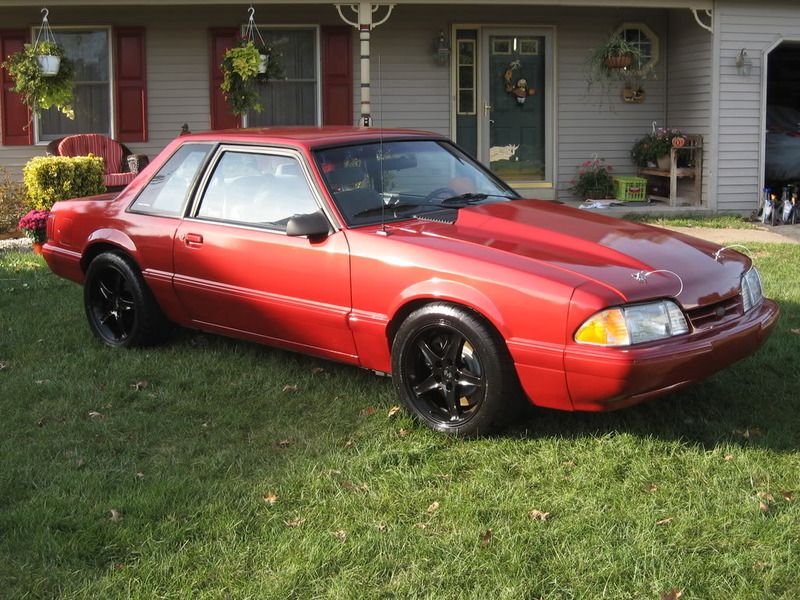 If the car does not sell as a whole, I will part it out. Until then please do not clutter up the posting with requests for certain parts or prices. The picture above was just after it was painted and prior to the paint job woes it currently has. I will try an get updated pictures by the 12th. Please PM me with any questions, $6500.00 Thanks for the interest.