Discussion Starter
•
#1
•
CAR IS LOCATED IN ORANGE COUNTY, CA
SCARLET RED w/GREY FLOFIT SEATS & INTERIOR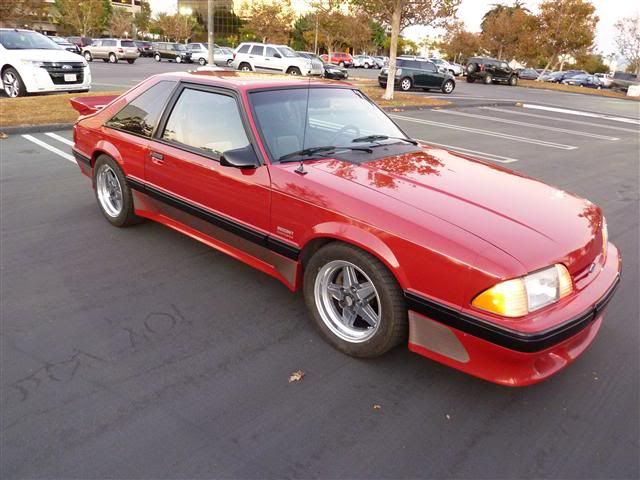 The particulars: This car has a fairly extensive list of mostly bolt-on modifications performed by the original owner. They're pretty conservative, and with the exception of the Paxton S/C, the car appears mostly stock under the hood. Some of the work was done by Saleen after sale, some by other vendors, and some by the owner himself. I have receipts for about $10K from the early 90s. The only addition I've made were a set of BBK urethane rear spring seats some years back. All of the original Saleen equipment is still fitted.
53,XXX ACTUAL Miles, Purchased from original owner in July 1994, first time offered for sale since then. The car is and has always been located in Orange County, CA
ENGINE/DRIVETRAIN:
Synthetic oil/filter changed at 3K intervals since new. Rear main seal appears to be weeping slightly; no leaks otherwise. New 170 lph fuel pump and BBK fuel pressure regulator
PAXTON SUPERCHARGER, 6psi boost pulley. Ball drive upgraded to SN-93 specs at roughly 40,000mi. Fluid changed at 1K mile intervals.
FORD MOTORSPORT 65MM throttle body
C&L 73MM MAF
EXTRUDE HONED UPPER AND LOWER INTAKES w/PHENOLIC SPACER A common (and not cheap) modification performed "back in the day" before all of the A/M manifolds were around; has the advantage of looking completely stock on the outside.
FORD MOTORSPORT GT-40 IRON CYLINDER HEADS Another mod popular before the plethora of aluminum heads hit the market. Used on the pushrod '93-'95 Cobra Mustangs
FORD MOTORSPORT "COBRA" 1.7 ROLLER ROCKERS
MSD 6-BTM IGNITION Specifically for forced induction engines. Control knob mounted on center console
ADS SUPERCHIP
JBA BIG TUBE HEADERS
WALKER SUPER TURBO MUFFLERS
CENTERFORCE CLUTCH
ALUMINUM CLUTCH QUADRANT AND ADJUSTABLE CABLE
TREMEC 3550 TRANSMISSION
AUBURN REAR DIFFERENTIAL , 3.55:1 GEARING
FORD MOTORSPORT ALUMINUM DRIVESHAFT
FORD MOTORSPORT H/D REAR CONTROL ARMS
FORD MOTORSPORT REAR SUBFRAME CONNECTORS
FORD MOTORSPORT 2 POINT ROLLBAR Leaves the rear seat with complete utility
THREE CORE RADIATOR
COSMETICS:
PAINT:
The original owner had a part-time business detailing cars, and the Saleen was his rolling advert (it had a personalized plate which read "DTALE"…) so I think it presents very well for a 23 y/o, 50,000 mile car. It has always been garaged (or garaged and covered since I've owned it.) The paint is completely original. Well, almost…The passenger door was repainted before delivery by the dealer (due to a problem with the side mouldings IIRC) until the PO cried "enough!" after a failed second attempt at a perfect color match. There are a few small blemishes and dings here and there, but still VERY nice for its age and mileage.
TRIM:
ALL lenses, side marker lights original and in excellent condition; all Ford trim pieces in very good to excellent condition; and all of the Saleen ground effects package is original and in perfect condition (the front air dam has the usual driveway scrapes on the very lowest edge---but these can't be seen without getting down on the ground and looking for them.) A front license plate has never been installed, and the rear valence is perfect. The side graphics are like new.
It goes without saying that the car has never been in any kind of accident minor or otherwise. ALL VIN stickers, badges, emblems, and decals are original and present. (I did remove the windshield banner early on because I'm 6'3" and being in my line of sight kinda annoyed me.)
INTERIOR:
The original interior is MINT with two exceptions: the driver's side Flofit has the usual wear on the outside side bolster (otherwise it's fine,) and the cheesy stock floor mats are….well, cheesy and worn (the rear mats are fine.) Guess I should've bought a new set from Saleen when I had the chance…. The interior is stock except for the roll bar and the control knob for the MSD ignition on the console. The PIONEER remote is still mounted and functional.
NITS:
I have polished and waxed the paint by hand, but it could probably benefit with a machine polishing by a pro…this would also eliminate some of the blemishes. The tint job on the rear hatch glass is bubbling…I may have already had it removed by the time anyone has read this. There is a small chip in the rear wing….a garage accident (should've bought a thicker car cover…) If you're into nostalgia, you'll love the tires…they are OEM replacement GENERAL XP2000Zs! Yeah, they're probably about 19 years old now….but I can report that they're round, have plenty of tread and do hold air. Hey, they were garbage when NEW! I never replaced them, always planning to upgrade the wheels to something like the '95 Cobra Rs and a good 17" tire and save the original tires/wheels for shows or such. Hmmm….the A/C is inop, no surprise after being idle so long, so that will need attention as well.
I think that's about it. I will furnish detailed high-res pics to any seriously interested buyer.
Please help my Saleen find a new home!
ASKING $11,900
But as usual, cash talks!
I can be reached through PM or e-mail by forum members or just e-mail for non-members:
[email protected]